What comes to your mind when you hear "good health?"
For most of us, we instantly think of physical health, healthy food, and weight management.
For the United Nations, this means ensuring healthy lives and promoting well-being for all ages — Goal 3 of the Sustainable Development Goals. Naturally, it's easy to assume the government's and the health care providers' primary role in achieving SDG 3, from disease control and healthcare services to improving mortality rates.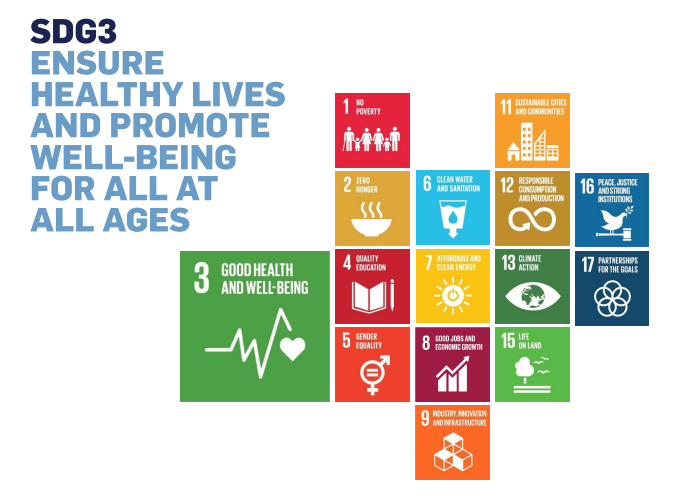 But we don't just stop there. There are more stakeholders in this sustainable development goal than most would think. Businesses and the private sector across various industries also have a hand in contributing to SDG 3. After all, providing workplace wellness can serve public health.
In this article, we'll dive deep into the following questions:
How does the workplace create or destroy people's physical and mental health?
What are the 4 pillars of workplace wellness?
What are the 4 levels of workplace wellness maturity in companies?
What factors contribute to workplace wellness?
What is the potential of businesses to control non-communicable diseases?
What is the role of the private sector as a driver for universal health coverage?
How can the private sector contribute to SDG3?
So, if you're interested in how to contribute to achieving SDG3 through your business and workplace, keep on reading!
The State of Business Work Environments
What's happening in the fast fashion industry?
In 2013, the Rana Plaza Factory collapsed, killing 1,100 people and injuring 2,500 people. They found that the building was already recommended to be condemned before the tragedy, yet employees still went to work in out of fear of not receiving their pay. This tragedy triggered building inspections in 1,106 factories used by the fast fashion industry.
What did they find?
A whopping 80,000 safety-related issues.
The fast fashion industry is valued at $106 billion in 2022 and expected to grow to $122 billion in 2023. Despite this, poor labor practices continue to plague the industry. These include the following:
The fast fashion industry alone employs around 75 million garment factory workers with wide-reaching effects on local communities. Can you imagine the impact on public health if there can be an industry-wide change to create a safe work environment?
You, along with many employers, may think that the fast fashion industry is not a good representative of the private sector as a whole. But it is a damning example of the future of workplaces when they take wellness out of the equation in favor of profit.
Of course, not all businesses are contributing to tragedies and terrible statistics. However, they may also not be doing much for workplace wellness.
Burnout, karoshi, and workplace stress
Take, for example, burnout. It's work-specific and has happened to many working individuals, and yet you'll hear people saying it's not real.
The 11th Revision of the International Classification of Diseases (ICD-11) classifies burnout as an occupational experience. ICD-11 it as a syndrome "resulting from chronic workplace stress that has not been successfully managed." It is characterized by the following:
Exhaustion or energy depletion
Increased feelings of negativism, cynicism, or mental distance from one's job
Reduced productivity
In the United States, a 2021 survey found that 52% of respondents are feeling burned out. Meanwhile, 67% believe that it got worse during the COVID-19 pandemic. These numbers should be alarming to employers and employees alike.
We need to raise awareness and heed the warning from scientific evidence that working long hours can lead to death.
In 2016, the WHO reported that 347,000 people passed away due to heart disease and 398,000 from stroke because of having worked a minimum of 55 hours a week. Burnout can also cause mental health distress and lead people to substance abuse and social isolation.
This phenomenon of dying from overwork is so common in Japan that they coined a term for it — karoshi. Their government accepts only 200 workplace injury claims for karoshi annually. However, campaigners say the actual death toll is at around 10,000.
There's no doubt that these numbers are a cause for concern. The private sector needs to step up and start taking better care of employees.
But don't start making policy changes and wellness programs in your company just yet!
Before arbitrarily making wellness initiatives that may seem effective, you'll need to understand workplace wellness first.
What Is Workplace Wellness?
What makes well-being and workplace wellness important? What are these things all about, anyway?
Janet Mertens, Vice President of Research at The Josh Bersin Company, noted that health and wellness are getting a lot of attention in organizations and businesses. More than 98% of companies have added health and wellness programs since 2020.
These employee wellness programs include meditation classes, stress management tools, counseling, resilience-building tools, and personal and health coaching. Despite many of these wellness efforts, employees are still burning out and leaving companies.
So what's wrong with typical corporate wellness programs?
Better health isn't just about how many workplace wellness programs you have. It's about whether your workplace culture supports overall health.
Here's how to shift your thinking about what makes a healthy workplace.
Well-being encompasses 4 pillars
Jodie Yates, a consultant at Agilisys, said that well-being encompasses 4 pillars. These are physical well-being, mental well-being, social well-being, and financial well-being.
Jeff Schwartz of Deloitte Consulting LLP also said, "Well-being is becoming a core responsibility of good corporate citizenship and a critical performance strategy to drive employee engagement, organizational energy, and productivity."
The 4 levels of an organizations's workplace wellness maturity
The Josh Bersin Company notes there are 4 levels of maturity when looking at healthy organizations. The lowest level cares merely for employee safety. Meanwhile, the highest level takes a strategic and holistic view of well-being.
A healthy organization is one that no longer focuses on just delivering wellness programs while expecting employees to do everything. It's an organization where the commitment to health is part and parcel of every aspect of the organization.
What factors contribute to a healthy organization?
Let's dive deeper into the factors that contribute to a healthy organization and, of course, healthy employees.
Remember that when we say health, it's not just about physical health and healthy eating. It's about so much more — giving employees financial wellness, a safe environment, health benefits, and ensuring better mental health.
In relation to the four pillars of well-being, The Josh Bersin Company analyzed over 100 business practices related to employee wellness to determine what makes a difference. The table below lists some business practices with their relative impact.
Take a look at the following and see what your business covers:
How Can Businesses Create a Bigger Positive Impact on Good Health?
You now have a better understanding of how organizations can improve employee health at the organization level. It's time we take a little step back and look at the bigger picture.
This is how businesses can promote health on the national level.
Realize the potential of businesses to control non-communicable diseases.
In 2012, the number one cause of premature mortality across the globe are non-communicable diseases (NCDs). These include cardiovascular diseases, respiratory diseases, malignant neoplasms, among others. The percentage of people dying from NCDs before the age of 70 is the highest in the poorest countries.
Katie Dain, Executive Director at NCD Alliance, said that NCDs are one of the top 4 risks for the global economy, although often neglected in development aid.
Katie argued that the private sector can have a huge role in improving public health, considering they employ around 3.4 billion people.
Workplace wellness programs aren't just for the country's health, they can also improve productivity and engage employees.
The private sector can be a driver for healthcare coverage.
When workplace wellness initiatives support better working conditions and allow employees to create a healthier lifestyle, it can create a big impact on universal healthcare costs.
Gillian Christie, Health Innovation Manager at Vitality, shared how healthier workers reduce long-term government healthcare costs across countries. Likewise, she mentioned how a healthier workforce can reduce short-term healthcare costs for employers.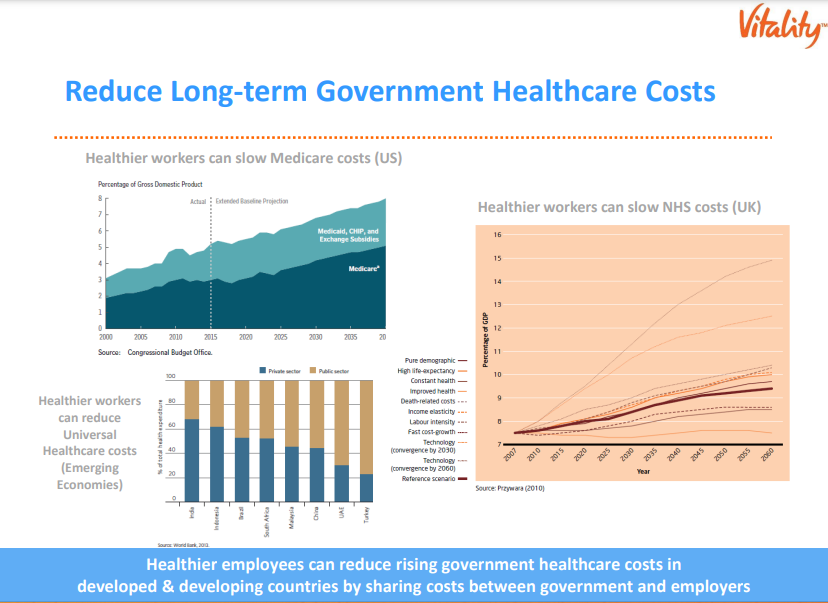 Workplace wellness programs
Both Katie Dain and Gillian Christie recommend the following wellness initiatives:
Create smoke-free workplaces and help support employees when quitting smoking
Offer healthy food choices
Promote movement and physical activity in the workplace along with health checks
Support active travel to work and provide cycle parking
Design healthy workplaces
Establish a mental health program
The Businesses Paving the Way Forward
Many businesses have started employee wellness programs that aim to motivate employees, increase productivity, and curb burnout and stress. Some have a long way to go, but a simple start is as good as any.
The good news is there are a lot of business paving the way forward. These notable examples illustrate how you don't have to sacrifice employee health and wellness to carry out your business objectives.
What is a BCorp Certification and why does it matter?
B Corp Certification is a designation that a business meets high standards of social and environmental impact. The certification only recognizes businesses that:
Achieve a B Impact Assessment of 80 or above in terms of social and environmental performance.
Make a legal commitment to change their governance structure.
Allow transparency regarding information needed to perform against B Lab's standards.
How b corps require the provision of a living wage
A key part of the B Impact Assessment includes the provision of a living wage. The assessment uses the definition from the Global Living Wage Coalition. It defines living wage as "the remuneration received for a standard workweek by a worker in a particular place sufficient to afford a decent standard of living for the worker and her or his family. Elements of a decent standard of living include food, water, housing, education, health care, transportation, clothing, and other essential needs including provision for unexpected events."
In particular, they differentiate a living wage from a minimum wage. The latter is set by governments, and the former is a result of research by specialist organizations. This distinction is important since the minimum wage in most countries is not enough to afford a decent standard of living.
b corps are more likely to provide health insurance
In the United States, health insurance is typically provided to full-time employees, and employers are not required to offer insurance to part-time employees and contract employees.
This creates a gap in coverage for the population. Not only will these employees go without coverage, but most will also forego routine health care since they are less likely to afford them.
B Corporations function differently. They consider employees as stakeholders, and the B Impact Assessment found that B Corps are 94% more likely to offer health care insurance to part-time employees compared to other companies.
What else are businesses doing now?
B Corporations are global leaders in creating a more inclusive and equitable economy. Here are a few companies and their efforts focusing specifically on SDG3.
A culture of health
Robert Wood Johnson Foundation, the largest philanthropy in the United States focused only on health, supports research, programs, policies, and practices aimed at bettering public health.
They have recently formed the Health Action Alliance along with the Business Roundtable, the Ad Council, CDC Foundation, and the de Beaumont Foundation. The Alliance brought top companies to strengthen public health and restore trust in science, promote COVID-19 prevention and vaccination, and support health equity by helping communities disproportionately affected.
They also supported the Global Reporting Initiative (GRI) through the development of the Culture of Health for Business Framework. This is to make it easier for companies to identify and report business practices that have an influence on health equity. In 2020, the framework received an honorable mention in FastCompany's World Changing Ideas Award.
Engaging companies to achieve workplace wellness and mental health
Meanwhile, in Spain, AfforHealth is making waves in mental health and psychosocial support in businesses. Specifically, they are a prevention consultancy firm that "optimizes the processes of diagnosis and intervention in psychosocial factors to promote the realization of psychosocial risk assessments in companies."
They recently launched Ruta Saludable 2022 to raise consciousness among SMEs about psychosocial risks and the need to promote mental health. The project was in collaboration with organizations, creating a high level of engagement and participation.
A healthy lifestyle and a positive impact on the Community
On a more micro-level, Mondora is a B Corp in Italy that created several benefit projects not only for their employees but also for their communities. This includes their Hire a Farmer and HireBitto programs, which directly support local farmers and cheese makers. They also created the Cycle2Work App, which allows people to track their cycling distance and earn €0.20 per km, in addition to reducing their carbon footprint.
Wrapping It All Up
Achieving the Sustainable Development Goals is no simple task. You can't just implement halfhearted wellness programs that solve nothing. We need all the help we can get.
What we do, or don't, in the workplace can have a tremendous impact on people's lives and health, with rippling effects on public health.
Applying what you've learned
If you're a business owner seeking to incorporate SDG3 into your business, here are some questions to think about:
Where does your business lie in the 4 levels of workplace wellness maturity?

If this is difficult to answer, reach out to employees to learn more about their perspectives.

How can your company improve physical, mental, social, and financial wellness?
What are some workplace wellness programs you can implement in the near future?